Please check the front and back of the package to confirm its integrity and ensure that all accessories and gifts are present upon delivery.
Holiday discounts & free gifts will be automatically added to the cart.
AS TEMAN Steel Tongue Drum | Stars Universe Series Tank Drum for Yoga & Meditation with gift set | 14 Inch 14 Notes Purple
---
12 in stock, ready to ship
---
AS TEMAN Steel Tongue Drum Universe Series: Stars 14 Notes

Size: 14 Inches
Color: Blue Purple
Scale: C Major
Material: Steel-Titanium alloy (corrosion-resistant)
Process: External heat treatment; Nitriding
Application: Yoga education; Meditation training; Family time; Outdoor entertainment
Features:
Good sound: The steel tongue drum integrates modern technology, sound theory and innovative design to make you feel comfortable.
Hand-made: Manual tuning is made to assure accurate tone. The sound is more full and ethereal.
Stable: The drum is stable with the silicone foot pads during performance. The pads are durable, non-slip and shockproof.
Fine spray-painted: The drum is hand-polished. It has fine spray-painting and first-class texture.
GIFT SET:
1 x

 

Pair of d

rumsticks
2 x Pairs of playing rings
1 x Tutorial book
1 x Scale sticker
1 x Bag
If you need personalized lettering on your steel tongue drum, please leave a note at checkout.
Unboxing Video
My first AS TEMAN handpan - Comet from The Universe Series
Handpans will improve your life quality in many aspects
Now that you have your own handpan, you will be much happier than before. Handpan is not just a musical instrument; it also represents a comfortable way of living.

Follow AS TEMAN to join the Handpan Art Festival
Enjoy Nature & Relax Yourself
Music has never been easier. Handpans make it happen.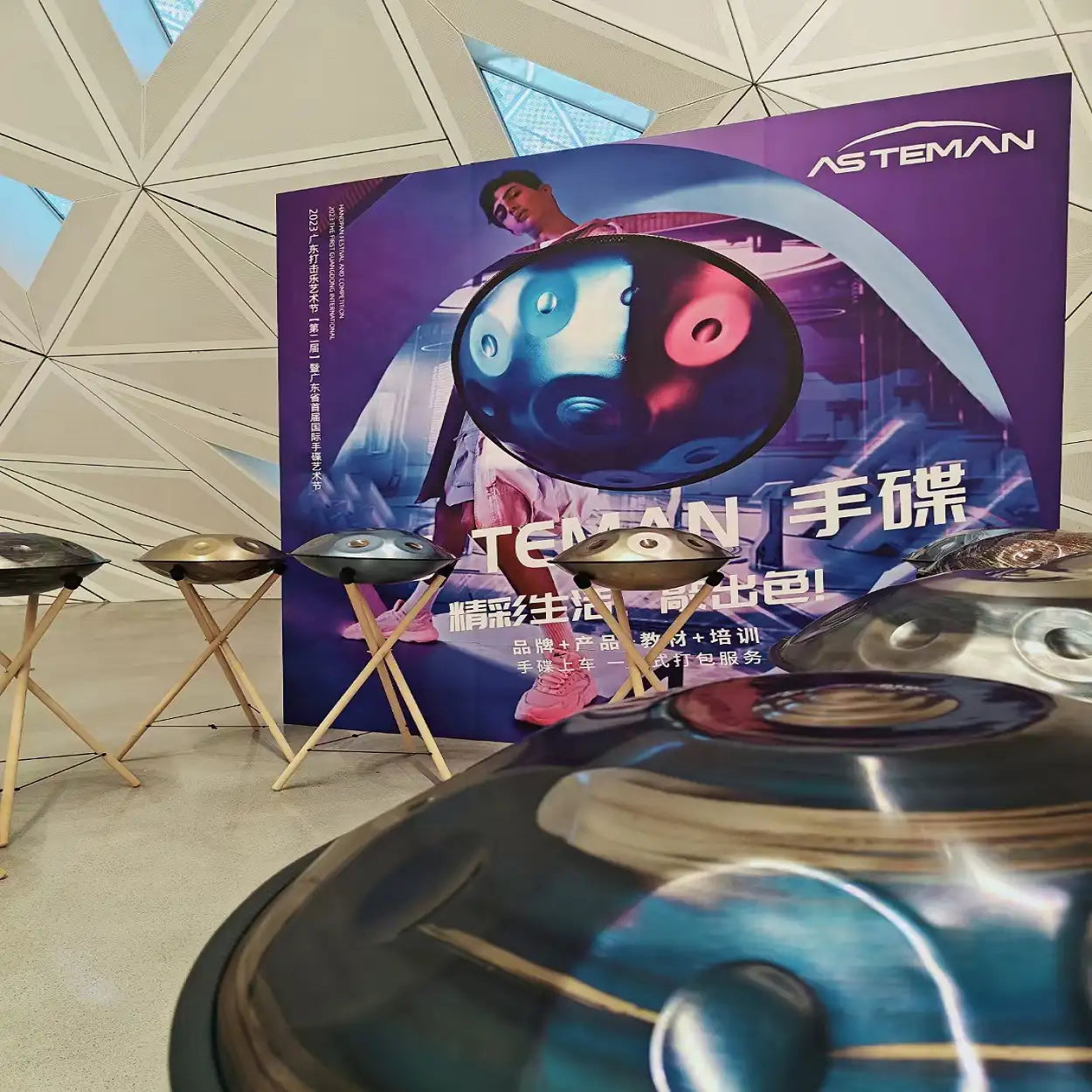 Pre-sales Service
Contact our Customer Care Team for pre-sales recommendations

Tuning Service
Contact our expert team for tuning support
Offline Services
Consult the nearest offline workshops or teachers
Discover More Activities With AS TEMAN
AS TEMAN is deeply committed to the promotion and development of Handpan art. We organize and participate in a variety of offline activities, including teacher training events, local instrument exhibitions, and the International Handpan Art Festival.
Learn more
Learn More About AS TEMAN Offline Stores
If you visit China, you will discover that AS TEMAN has numerous offline stores and experience centers. Our stores and workshops are primarily located in Liaoning, Xiamen, Taiwan, and Guangdong, while our experience centers are spread across Beijing, Guangzhou, Shandong, and Hebei. We warmly welcome all music enthusiasts and handpan lovers to visit and experience our instruments.
Wear a side strip for the handpan, such as black rubber edge and braided rope.
Play handpan on your legs, futon or handpan stand to avoid directly touching the ground.
When playing, avoid bumps, rings or long fingernails scratching the surface.
DO NOT place it in a high place to prevent accidental falling.
Keep it away from fire. DO NOT expose it to a severe cold but keep it in the carry bag.
Store the handpan in a dry and ventilated place to avoid moisture.
Do not expose the instrument to sunlight.
DO NOT let your handpan touch with corrosive liquids such as detergents.
Hand sweat may cause the handpan to rust. Dry the surface with dust-free cloth with/without achohol after playing. Apply protective oil once a week.
Frequently Asked Questions
What can I get from AS TEMAN?

This is the flagship store of AS TEMAN. We offer handpans currently starting from $460 with carry bag, gift set and fast free shipping. You can get a handpan with high quality and unique artistic design in a fair and affordable price here, together with AS TEMAN® 1 Year Warranty, 7-day Free Money-back and considerate pre-&post-sales customer service. We are definitely your ultimate choice.
Can you ensure good quality as the price is so low?

We have experienced tuning techniques and extraordinary craftsmanship.World leading unique and trendy designs make our handpans more diverse to show one's personality. Tuning confirmation of every handpan before shipment and cooperations with reliable worldwide couriers for express delivery ensure our instruments to arrive fast and safely in your hand. Our initial aspiration is to make everyone who loves handpan meet the sound of the soul. For this reason, we provide fair and affordable price as well as free shipping.
Is there a waiting list?

All popular styles of our D minor handpans and all the steel tongue drums are always available for shipment. We send the instruments in stock right away once you order. For thecustom scalehandpans, we need 4-7 days to hand-make and prepare the shipment for you as soon as possible.
Can I request a custom handpan scale?

We have common custom scales of 8 notes, 9 notes and 10 notes handpans. You can choose custom colors and patterns too. Click here to see details. If the scale you are looking for is not listed on this page, please contact us to see if it's available.
What's included in your Gift Set?

1 x Black rubber edge

1 x Pair of drumsticks

1 x Carry Bag

1 x Handpan stand (random color)

1 x Dust-free cloth

1 x Maintenance instruction
How to check the logistics information of my order?